Romance & Adventure in the Highlands of Scotland
Preorder Now – Releases 10 February! HEART OF STONE
(A Highland Talents Prequel)
in
Kissing the Highlander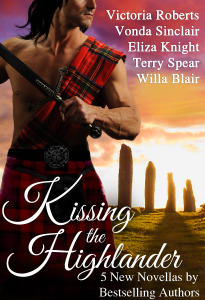 Bound home after two years away, Gavan MacNabb comes across a lass and her deerhound in a moonlit circle of standing stones. Little does he know that the garland of bluebells she weaves and the spell she sings will change the course of his life.
Marsali Murray doesn't really believe the old wives' tale that making a chain of bluebells by the standing stones under a waxing moon will bring true love, but she's desperate to try anything to escape the boring, everlasting sameness of her life. Anything except marrying a man her father chooses for her. When her deerhound, Corrie, insists on following Gavan, Marsali decides that's the excuse she needs to have the adventure she craves. She'll go where he goes, whether he is the man promised by her spell—or not.
Gavan has already seen much of the world denied to Marsali. He's ready to settle down. She is eager to spread her wings. Can they find what they need with each other
Amazon  iBooks  KOBO   Smashwords   AllRomanceEBooks  Barnes & Noble 
***
My Newest Highland Talents Series Release
(Highland Talents Book 3)
Years ago, after tragedy struck Jamie Lathan's family, Lathan fosterling Caitrin Fletcher was sent home, out of danger. Heartbroken, young Jamie never expected to see her again. He certainly never imagined he'd be called upon to escort her to be betrothed to another man.
But now, as their attraction reignites during the trip, Jamie's longing for Caitrin deepens, and he despairs to lose her again. The secret he hides, however, may prevent any chance for a future with her. Can Jamie find a way to claim her himself without starting a war involving three clans?
Caitrin is torn between her duty to make the marriage her father wants and her feelings for Jamie, the lad she's loved for years. When she meets the man her father has chosen, her secret Highland talent tells her he cannot be trusted. Can she refuse the powerful lord without revealing how she knows he's lying…about nearly everything?
AMAZON  iBooks  Barnes & Noble  KOBO   AllRomanceEBooks  TheWildRosePress  BookStrand
***
Have You Read My Last Release?
(A Highland Talents Novella, Book 1.5)
The Healer's Gift resolves the story of one of the most tormented characters in HIGHLAND HEALER. 

Coira MacDugall deserves the harshest punishment for her actions in the Highlands.  But her clan's new laird, Logan, defies her expectations.  And the Healer's gift changes everything she thought she knew — about herself and the people around her.    
Coira MacDugall paid with her life for her attack on the Highland Healer. But her victim did more than heal Coira's fatal wound that awful night. Now drowning in the unwelcome emotions of others, Coira wonders if her new empathic ability was meant as a gift or a curse.
Logen MacDugall must discover who killed three previous lairds if he hopes to survive for long in the position. He believes Coira's new sense can help him root out the conspirators, but after her disastrous time in the Highlands, the last thing she wants is to get involved with another laird. Logen must help Coira gain control of her talent in time to save him and their clan from those intent on destroying MacDugall.
Can Coira believe this laird truly loves her? Or will her memories lead her to madness again?
"The Healer's Gift is another captivating tale from Willa Blair, who brews fabulous Highland stories filled with love, adventure and magic." Toby Devens, Author of Happy Any Day Now
Available from these and other retailers:
AMAZON  iBooks  BARNES & NOBLE  KOBO  AllRomanceEBooks  TheWildRosePress  GooglePlay  BookStrand