I'm branching out, from strictly historical Scottish romance to a bit of fun in today's Hawaii…and beyond! No matter where my books are set—or when—they have plenty of spice and that touch of paranormal magic you love. And whether my heroines fall for men in kilts, men on surfboards, or any other kind of hero I dream up, they are strong, feisty and more than a match for their men.  
So pull up a chair, sit back…and enjoy. For peek at my next books, read on, then check the Books tab for my earlier novels.
HEART OF STONE (A Highland Talents Novella)
Previously Published in the anthology, Kissing the Highlander
Bound home after two years away, Gavan MacNabb comes across a lass and her deerhound in a moonlit circle of standing stones. Little does he know that the garland of bluebells she weaves and the spell she sings will change the course of his life.
Marsali Murray doesn't really believe the old wives' tale that making a chain of bluebells by the standing stones under a waxing moon will bring true love, but she's desperate to try anything to escape the boring, everlasting sameness of her life. Anything except marrying a man her father chooses for her. When her deerhound, Corrie, insists on following Gavan, Marsali decides that's the excuse she needs to have the adventure she craves. She'll go where he goes, whether he is the man promised by her spell—or not.
Gavan has already seen much of the world denied to Marsali. He's ready to settle down. She is eager to spread her wings. Can they find what they need with each other?
Available NOW on AMAZON  iBooks  Smashwords  Barnes&Noble  Kobo

COMING 21 OCTOBER! PREORDER NOW
WHEN HIGHLAND LIGHTNING STRIKES (A Highland Talents Novella)
A Man who would be Laird
Angus MacAnalen fully expects to succeed his dead brother as Laird. But on the day of the Clan Council''s vote, a new lass steals his breath and his heart, making him question the ambition that drives him. When he begins to suspect she has a hidden talent that could help his clan, he must overcome the painful disappointment of the past before it costs him the future he desires.
A Lass in Exile
Because of her strange ability, Shona''s village banished her to live with a distant uncle after her parents died. When she catches the eye of the prospective laird of her new home, she fears the clan''s scrutiny may cause her to be expelled again, or worse. But Angus seems determined to win her heart, and Shona can''t help wanting to give it to him, despite the risks.
A Love Lifted out of the Ruins
Broken promises and broken dreams litter their pasts, and their present. Can they build a future from the ruins?
Available in October from these and other retailers:
AMAZON iBooks BARNES & NOBLE KOBO TheWildRosePress AllRomanceEBooks GooglePlay BookStrand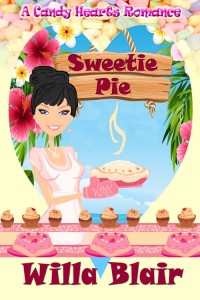 COMING in JANUARY–Something a Little Different!
SWEETIE PIE (A Contemporary Candy Hearts Novella)
Makenna Stewart flees Scotland for the Big Island of Hawaii intent on making real a cherished dream—–a bakery of her own. Hard work and long hours leave Makenna craving some fun in her life. Her best customer, Greek-god sexy surfer Tom may be just what she needs, but she suspects there''s more to him than board shorts and a devastating smile.
Retired professional surfer and real-estate multi-millionaire Tom Bensford is there when she opens every morning, but he''s not craving her magical Morning Glory muffins. Fascinated by the dark-haired, blue-eyed wahine with the creamy Celtic skin and devastating Scottish accent, he''s never met a woman like her. Too bad he''s about to destroy her dreams.
To him, it''s just business. To her, it''s the kind of betrayal she fled Scotland to escape. Can the island magic in Makenna's heritage save her dream and their romance, or will his secret tear them apart?
Available in January from these and other retailers:
AMAZON iBooks BARNES & NOBLE KOBO TheWildRosePress AllRomanceEBooks GooglePlay BookStrand