No matter where my books are set—or when—they have plenty of romance, spice and that touch of paranormal magic you love. So pull up a chair, sit back…and enjoy. 
PREORDER TODAY!

Waiting for the Laird Releases 19 October
Will a ghost be the key to his past and their future?
Widow Lara MacLaren hungers for the hunky architect she hires to restore her derelict Scottish manor, but is she ready for a relationship…and is Ian ready for her twins?
Ian Paterson is eager to awaken Lara's passionate side. Yet, if he reveals his ancestral claim to her estate, he risks losing her and his job. His clan's history, lost over the years, may be hidden in the walls—along with a ghost waiting for the laird's return.
When they uncover a room full of Jacobite treasure, proof of his ancestry, Ian realizes he's out of time. If the ghost is real, it could expose his secret and destroy his romance with Lara. Ian must convince her she and her twins are the future he truly wants.
Get Waiting for the Laird—Preorder from your favorite bookseller today!
PREORDER TODAY!

Enchanting the Highlander Releases 1 November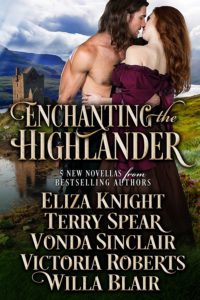 Enchanting the Highlander includes brand new novellas from Eliza Knight, Terry Spear, Vonda Sinclair, Victoria Roberts, and my new novella, His Highland Rose, the prequel to my new His Highland Heart Scottish historical romance series. (You'll see more about that later this year.)
Don't wait to preorder Enchanting the Highlander—it's only 99 cents through release week. Preorder your copy today!
PROTECTED BY THE LAIRD by Eliza Knight — When she needed a champion, he raised his sword…
VEXING THE HIGHLANDER by Terry Spear — Saving the king's life has unforeseen consequences for one Highlander and a lady, the king's ward…
DEFENDED BY A HIGHLAND RENEGADE by Vonda Sinclair — A bride on the run doesn't expect a kilted outlaw to come to her rescue…
TARTANS AND TRYSTS by Victoria Roberts — This Highland warrior is about to lose the battle to a lass who's already won his heart…
HIS HIGHLAND ROSE by Willa Blair — He is the one man who can see her soul and show her who she truly is—his only love…