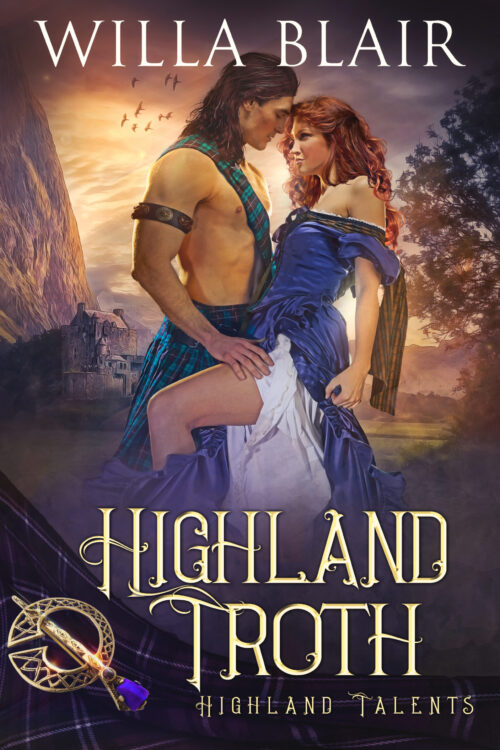 Title:
Highland Troth
Series:
Highland Talents #

5
Genre:
Historical
Years ago, after tragedy struck Jamie Lathan's family, fosterling Caitrin Fletcher was sent home, out of danger. Heartbroken, young Jamie never expected to see her again. He certainly never imagined he'd be called upon to escort her to be betrothed to another man.

But now, as their attraction reignites during the trip, Jamie's longing for Caitrin deepens, and he despairs to lose her again. The secret he hides, however, may prevent any chance for a future with her. Can Jamie find a way to claim her for himself without starting a war involving three clans?

Caitrin is torn between her duty to make the marriage her father wants and her feelings for Jamie, the lad she's loved for years. When she meets the man her father has chosen, her secret Highland talent tells her he cannot be trusted. Can she refuse the powerful lord without revealing how she knows he's lying...about nearly everything?

---
Excerpt:
"It's been a long time since we've seen each other, Caitrin," Jamie said, trying to change the tenor of their conversation before they got too far down the wrong path. "Canna we begin again as the friends we once were?" He studied her eyes, searching for the lass he used to know, then smiled, hoping to encourage an answering smile from her. "Yer da's description in his letter to the Lathan didna do ye justice." Flattery might work. It usually did with a lass. Certainly, it couldn't hurt.
"Think ye to sway me with sweet words, Jamie Lathan? I am nay longer a lass of sixteen years to be swept away by a lad's fawning attention. I'm the heir to Fletcher. Dinna patronize me."
"I never would," he replied. Too quickly, he realized, as her eyebrow arched. Ach, think. What was she up to? "I merely hoped to renew our acquaintance. Since we'll be spending the next several days together, I thought we might enjoy—"
"We may be forced to travel together, but there's nay reason for us to make anything more out of the journey. Ye are here to do a job."
Jamie winced as she spoke the same words he'd said to himself not so very long ago. At least they were in agreement on one thing. "Aye, I am."
"Then I trust that ye will do it well and deliver me to my da."
"Of course." How had this gotten so out of hand?
Also in this series: