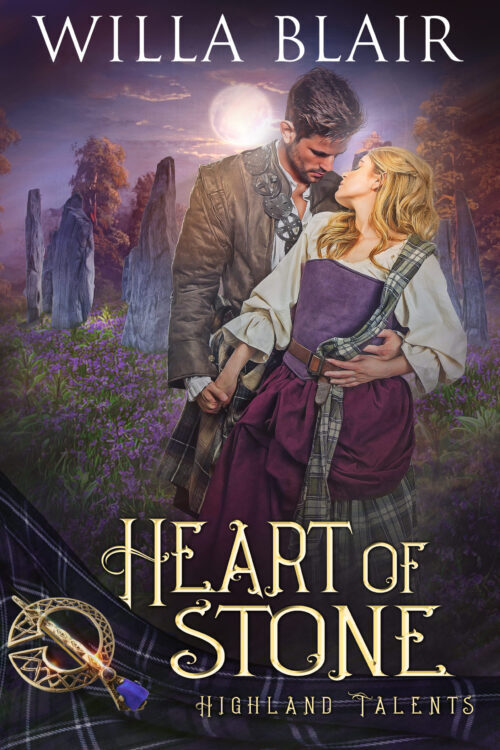 Title:
Heart of Stone
Series:
Highland Talents #

6
Genre:
Historical
The HIGHLAND TALENTS Series Prequel: Read this first or any time after Highland Seer to meet a teenaged Donal MacNabb.

Bound home after two years away, Gavan MacNabb comes across a lass and her deerhound in a moonlit circle of standing stones. Little does he know that the garland of bluebells she weaves and the spell she sings will change the course of his life.

Marsali Murray doesn't really believe the old wives' tale that making a chain of bluebells by the standing stones under a waxing moon will bring true love, but she's desperate to try anything to escape the boring, everlasting sameness of her life. Anything except marrying a man her father chooses for her. When her deerhound, Corrie, insists on following Gavan, Marsali decides that's the excuse she needs to have the adventure she craves. She'll go where he goes, whether he is the man promised by her spell—or not.

Gavan has already seen much of the world denied to Marsali. He's ready to settle down. She is eager to spread her wings. Can they find what they need with each other?

Now Available as an Audiobook!

---
Excerpt:
"'Tis a harmless thing I do." She paused, eyeing him, as if wondering whether she dared continue. A frown marred the smooth expanse of her forehead, but only for a moment.
Her reluctance made Gavan wonder what harm a woven strand of bluebells could harbor. Was she embarrassed or uneasy to tell him? "Aye?" he prompted, curious now.
She exhaled, glancing skyward, then met his gaze. "'Tis said if under a waxing moon a maid weaves a chain of bluebells within the stone circle, the next lad she sees will be her true love." She held up her handiwork. "'Tis no' quite finished, so I believe ye are safe from me. Corrie tells me I am safe from ye."
Gavan gave her his most innocent smile. "I dinna believe in such things, but if ye do…" Not in the magic, and not in the illusion of safety her dog gave her. This hound would be no match for him, despite its great size or the shaggy gray coat that made it appear even larger. Likely Marsali Murray trusted most people were unfamiliar with the friendlier aspects of the breed. After days of travel, he looked like most people—or worse—rather than the son of a highland laird with a keep, a kennel, and a few deerhounds of his own.
She gave him a sheepish grin. "I couldna see any harm in the attempt."
Also in this series: