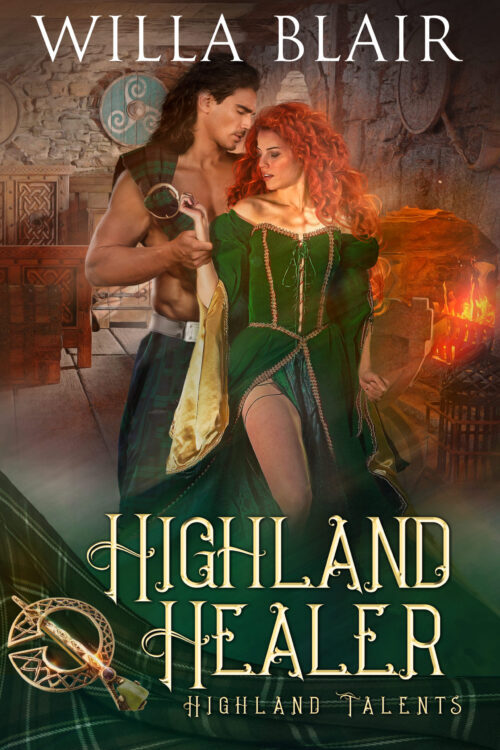 Title:
Highland Healer
Series:
Highland Talents #

1
Genre:
Historical
HE NEEDS HER FOR HIS CLAN.
HE WANTS HER FOR HIMSELF.
CAN HE HAVE BOTH?

Toran Lathan never expected to become Laird, and never expected to meet a woman like Aileana Shaw. Her healing ability is just what his people need, but Toran cannot resist her beauty. Yet will loving him destroy her ability to heal?

Aileana Shaw has a healing touch - and a special talent she must keep secret. Stolen from her home by a marauding army, she's kidnapped again by the Highland Laird she heals. Is she a prize of war, or the prize of his heart?

While Toran battles the invading lowland army, he also battles his desire for Aileana. And Aileana must decide if she can trust her secrets to this fierce warrior who needs her talent, but wants her love.

Get Your HIGHLAND HEALER Audiobook!

Amazon/Audible
Apple
audiobooks.com
Booktopia
Chirp
GooglePlay
Kobo
Scribd
Spotify

---
Excerpt:
Despite his threats a few moments before, she had sensed no real animosity in him. She'd been treated well since arriving at the Aerie. Her dream of a home, with people who cared about her, perhaps a family of her own, rose unbidden to her mind, and with it came a familiar lump in her throat. She was tired, she thought, to let that longing overwhelm her now. She folded her arms under her breasts and kept her eyes on the flames. She heard Toran move from the door to stand behind her. She tensed as his hands came to rest on her shoulders. He turned her gently, but irresistibly, to face him.
"What should I do with so beautiful, so valuable, a prize?" he murmured, almost to himself.
His deep blue gaze ensnared Aileana as completely as his hands. She knew she should be outraged at being called a prize. He'd done it before, on the way here. Did he truly see her that way? She refused to be chattel any longer, she told herself, and would not allow him to treat her so. But she found she could not summon her ire. One of his hands left her shoulder and he lightly touched her cheek, then slowly slid his fingers down her throat to her collarbone. There, he hesitated, and Aileana held her breath until he moved the hand back to her shoulder.
His simple touch sent shivers dancing and nearly undid her.
Also in this series: