Welcome to 2017! It's a new year, and I have a new opportunity for you to find some great new books in a fun giveaway. Oh, and you might win some terrific prizes, too.
QUIZ & GIVEAWAY
Do you like reading awesome books?
Do you like winning even more awesome goodies?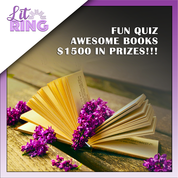 Then you've come to the perfect place! Start with one quick question and then move on to the BIG QUIZ to score maximum entries into our amazing giveaway! 
1 $500 gift card
4 $100 gift cards
1 Kindle Fire
1 Nook Color
1 iPad Mini
1 Kobo Aura
And who knows, you might even meet your next favorite book!

To choose your favorite genre and get started, click HERE.