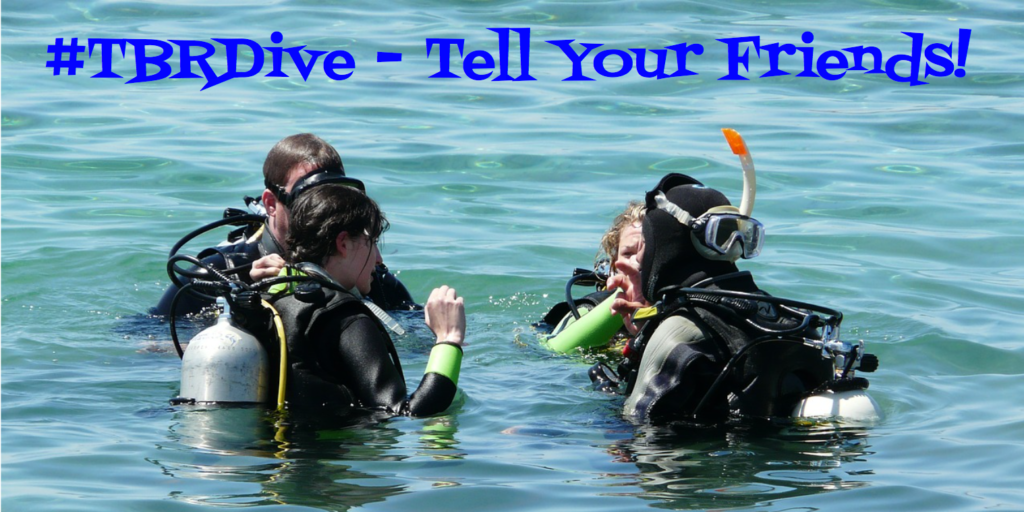 It's #TBRDive Monday! What's a TBR? We all have them. To-Be-Read lists, piles, rooms, servers, caverns, vastness as large as the ocean floor.
Treasure awaits us that we're not enjoying!
So, here we go. Each Monday dive into your TBR books and share what you come out with by using #TBRDive on whichever social media you prefer.
     An author new to you.
     A new series by an author you love.
     Wrapping up a series you've been reluctant to end. (Saying good-bye can be saying hello to something new and wonderful.)
So Many TBR books to Choose From…
Some weeks we might give you a prompt, like the 34th book down on your list or an author name starting with … oh, say, W or B. Ahem.  Or a title with a preposition in it. Or a four-word title.
Or whatever else comes to mind or – better yet! – what you recommend.
What to Share on #TBRDive
Share the book you've discovered. That's all you have to do.
Want to add more? Say how wonderful it is, say how you can't believe you waited this long to find it, say you need to read all the rest by this author … or maybe youl discovered it's not a good reading match for you.
Sad. But there's an upside of more room in your TBR! 
And maybe you'll discover true treasure with your #TBRDive.
I can't wait to see what shiny glories we bring up from the depths! Dive in! #TBRDive