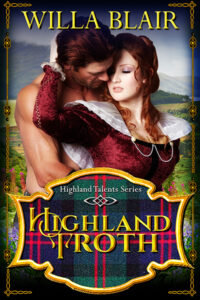 I'm excited to announce that I am about to re-release HIGHLAND TROTH (Highland Talents Book 3) with a gorgeous new cover and for a discounted preorder price. 
Reserve your copy for $2.99. The price will go up to $4.99 on Release Day, August 6th, so don't miss this special deal!
(Previously published by The Wild Rose Press)
Years ago, after tragedy struck Jamie Lathan's family, fosterling Caitrin Fletcher was sent home, out of danger. Heartbroken, young Jamie never expected to see her again. He certainly never imagined he'd be called upon to escort her to be betrothed to another man.

But now, as their attraction reignites during the trip, Jamie's longing for Caitrin deepens, and he despairs to lose her again. The secret he hides, however, may prevent any chance for a future with her. Can Jamie find a way to claim her for himself without starting a war involving three clans?

Caitrin is torn between her duty to make the marriage her father wants and her feelings for Jamie, the lad she's loved for years. When she meets the man her father has chosen, her secret Highland talent tells her he cannot be trusted. Can she refuse the powerful lord without revealing how she knows he's lying…about nearly everything?