HEROES OF THE HEART
Six romantic stories, both novellas and full-length novels by bestselling authors, in one gorgeous boxed set—all for 99 cents! From the middle ages to the present day, Heroes of the Heart will catapult you through time, warm your nights, and remind you that love conquers all.
This boxed set includes His Highland Rose, the prequel to my new His Highland Heart series. Available on Amazon.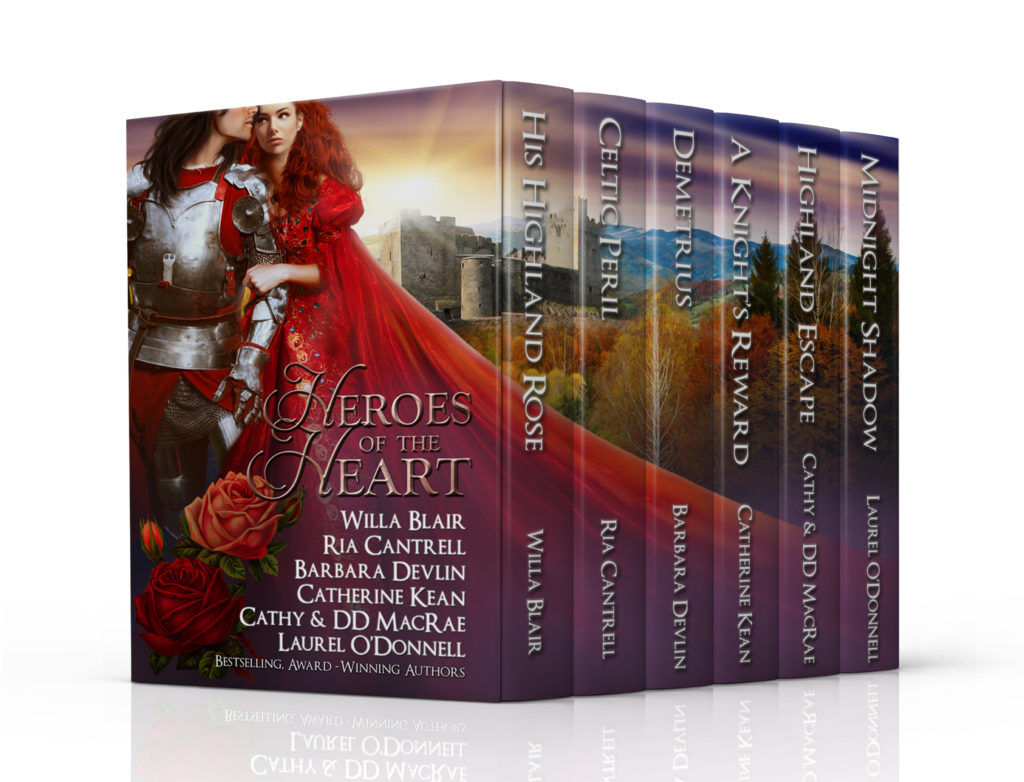 HIS HIGHLAND ROSE by Willa Blair –
Annie Rose values her freedom. She doesn't want to be anyone's bride, not even deliciously and annoyingly sexy Iain Brodie's. To win her, Iain must risk losing everything he values—the clan he was born to lead and even Annie—his only love.
CELTIC PERIL by Ria Cantrell –
Tom Callum has just landed a spot with a prestigious road show called Celtic Storm as the lead singer and front man. When he reaches Scotland on the leg of the tour, he is drawn to seek his heritage and uncover the mysteries of his past. He is fascinated with a painting of a girl who lived more than six hundred years ago. Something about her tugs at his long forgotten memory. Little does he know that he will soon be plunged into a world of intrigue, deception and peril. The past and present collide in an adventure that brings danger at every turn. Only love will give Tom the strength he needs to thwart an attempt on King Richard's life. Tom must save the reputation of the Clan MacCollum . How can he succeed without destroying what has already been written in history? Will Tom be able to survive his leap into the past? Will he be able to survive his return to the present, only to leave his heart behind?
DEMETRIUS by Barbara Devlin –
Demetrius de Blackbourne is a Nautionnier Knight, a pious man, and a virgin who, much like his bride, has vowed to devote himself to divine endeavors, and his plans do not include a wife. When he is tasked with settling a troublesome region, and installing the King's new garrison, he neglects the most important charge of all—his lady. But the gentle spirit and quiet strength of Athelyna manifest a temptation he can neither ignore nor deny, and Demetrius finds himself fighting for the one thing he never thought he would want—her heart.
A KNIGHT'S REWARD by Catherine Kean –
Gisela Anne Balewyne, in hiding with her son, reunites with Dominic de Terre, the lord she loved and lost years ago; however, she fears loving him again would mean risking his life. As Dominic investigates stolen cloth shipments, he uncovers dangerous secrets, including those about Gisela. Will he lose her and all that's dear to him—or will he win a knight's greatest reward?
HIGHLAND ESCAPE by Cathy & DD MacRae –
Trained as a warrior and unwilling to be any man's chattel, Lady Anna Braxton shuns the idea of marriage—until Duncan MacGregor coaxes her into a world of acceptance and passion she never knew existed. He wants her as his wife. She will agree, but only on her own terms—conditions Duncan is not sure he can accept.
MIDNIGHT SHADOW by Laurel O'Donnell –
When the unjust rules of a neighboring lord terrorize her friends, Bria Delaney dons the mask and cloak of her childhood hero to right the wrongs and save them from oppression. Torn between the woman he longs to trust and the outlaw he has vowed to hang, Terran Knowles vows to find the truth. Will a legendary hero find love in the arms of her enemy?
Get Heroes of the Heart for 99 cents on Amazon!