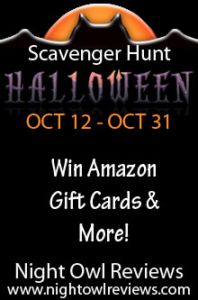 Trick or Treat! If you got my last newsletter, you know this month I'm celebrating Waiting for the Laird's release on October 19 by participating in several terrific Halloween contests and giveaways. (If you didn't get my newsletter, click on the plaid heart at the right side of this page or click here to subscribe!)
Today, I've got another treat for you. I'm one of the sponsors of the Night Owl Reviews HALLOWPALOOZA Scavenger Hunt.
During this event I'm going to help you find some great new books. Make sure to check out my featured title along the way.
The grand prize is a $100 Amazon Gift Card. The total prize pool is over $1,000. Don't miss this! The hunt is on October 12 through Halloween!
And watch this space for more giveaway and book treats news!