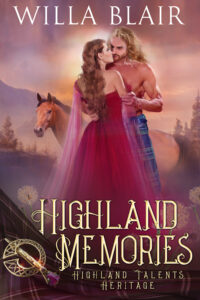 Today is release day for my latest novel, HIGHLAND MEMORIES! I loved the reader response to the first book, HIGHLAND PRODIGY, in my brand new series. Highland Talents Heritage. I'm sure you'll also love this latest book, spun off from HIGHLAND HEALER (Highland Talents Series).
When fosterling David MacDhai left the Lathan clan, he took the shards of Lianna Lathan's young love with him. Until the day she follows a gravely ill horse to its injured rider, she believes her heart is past mending. Stunned by a flood of memories, she recognizes the man on the ground before her is the lad she's dreamed of for seven long years and thought never to see again.

David MacDhai recently inherited a troubled keep in the Highlands. As laird, it is his responsibility to put a stop to whatever is sickening the horses his clan relies on for income and defense. His only hope to save them—and to strengthen his tenuous hold on his clan—lies at the end of a painful journey. David seeks the Highland Healer's special talents, but her daughter, Lianna, is the one who may hold the key to saving his clan.

Though Lianna is determined not to give David the power to hurt her again, for the sake of his horses, she cannot refuse to go with him. Seeing her unlocks an aching need that he kept hidden deep in his heart and in his memories. As they struggle to uncover the origin of the mysterious ailment, they fight to control the embers of passion flaring brightly between them once more. Can they heal the pain of the past when their very lives may be at risk?
Readers are loving Lianna and David's story!
"The book is full of suspense plot twists, anxiety, passion, romance and a bit of healer magic, that make this a very lovely tale. You won't want to quit reading until the entire story unfolds, including the very satisfying epilogue." ★★★★★
"A wonderful story filled with love, family, terrifying mystery, beautiful horses, heartfelt moments, wedding speeches that brought forth tears. If you love horses or animals, this story is a must." ★★★★★ 
Start reading today! Get your copy: AMAZON (Kindle and Print)  B&N (Print) Walmart (Print)
Read for FREE on Kindle Unlimited!