WAITING FOR THE LAIRD is just 99 cents
The reviews are in: it's the perfect Halloween romance!
"…this is a great story for Halloween! There's suspense, romance, ghosts and Scotland. What more do we need from a tale?"

"If I could give it more than five stars, I would."

"A little paranormal, a little American, and a whole lot hunky Scottish romance." 

"I enjoyed this book so much that I ended up reading this book in one sitting!"

"…this is my favorite ghost story I've read this year!"
Don't Miss This Halloween Sale – Get Your Copy Today!
Excerpt: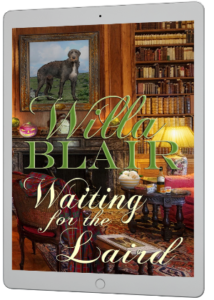 "Are ye okay?" Ian felt Lara's ribs expand under his hand as she breathed.
"I am now," she murmured. "I could have sprained an ankle, or fallen and hit my head."
"You needn't worry," he answered softly. "I've got you." Pressed against his hard length, right where he needed her. Though he knew holding her was a mistake, he couldn't let her go.
Her face flushed. "You do at that. I…I…" She glanced at the ceiling, then returned her gaze to his. "Thank you…"
"You're welcome. I don't mind a bit," Ian teased. Her body was firm, yet soft against his. She made no move to escape his embrace. He lowered his gaze to her mouth. Her lips were so close. So tempting.
Lara's breath warmed his face. Her gaze met his, then dropped quickly to his mouth.
He was certain she meant to allow his kiss…and to kiss him back. He parted his lips, drinking in her scent, eager to taste her.
Something moved in the darkness below them, soundless, but stirring the cool air and whispering across his hands. The back of Ian's neck prickled.
Lara stiffened and cocked her head, as if listening.
"Just a draft," he murmured. Ian could have sworn it was only moving air, nothing more. He hoped. He'd grown up hearing tales about Cairn Dubh—and its ghost. If Cairn Dubh did have a ghost, this ancient space would be a fine place for it to haunt.
Start Reading Now – Get Your Copy from Your Favorite Bookseller!