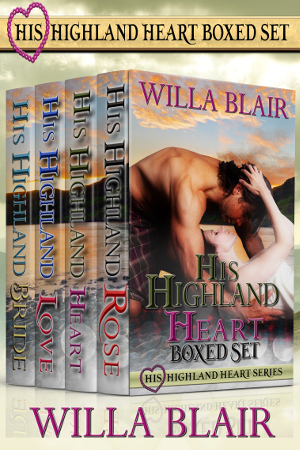 Title:
His Highland Heart Series Boxed Set
Series:
Boxed Sets
Genre:
Historical
Love to read series but want the whole set? Get the His Highland Heart Boxed Set, now available on Amazon!

Prequel: HIS HIGHLAND ROSE

Iain Brodie is a fierce warrior and passionate lover, but to prove he's responsible enough to follow his ailing father as the clan's chief, he must give up the lasses and find a bride—quickly. Skilled rider and archer Annie Rose values her freedom. She doesn't want to be anyone's bride, not even deliciously and annoyingly sexy Iain Brodie's. To win her, Iain must risk losing everything he values—the clan he was born to lead and even Annie, the woman he sees for who she truly is—his only love.

Book 1: HIS HIGHLAND HEART

If Muireall Munro reveals who she really is, the delicious man who just saved her life will want nothing further to do with her—yet she needs him if she is ever to escape her Ross captors. If Euan Brodie reveals who he really is to the woman he saved, he risks not only his life, but his clan. Left with no choice, can they save each other while they fall in love?

Book 2: HIS HIGHLAND LOVE

Sent to St. Andrews as hostage for his clan to the Warden of Scotland, Kenneth Brodie resents being exiled—until he encounters his lost love, Cat Rose. When war breaks out, they must escape. And even though he betrayed her with more than one mademoiselle, he's the only man Cat trusts to get her home to the Highlands. Can she forgive his past and renew the love they once shared?

Book 3: HIS HIGHLAND BRIDE

Cameron Sutherland has become the man whose every smile has the power to bring Mary Rose to her knees. But he is as duty-bound as she is, and responsibility calls him back to Sutherland, where she fears he will stay, forgetting her and all they've shared. With another powerful clan's interests at stake, Cameron's return sets events in motion that will have life-changing consequences for the woman he can't forget.

---